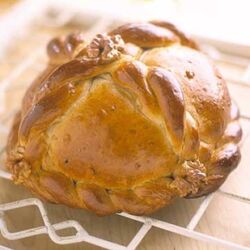 Walnut Bread is a traditional part of an Easter feast. While there are several variations of the bread, this is a recipe that you can build on!
Ingredients
Edit
3/4 cup milk
1/3 cup margarine or butter, cut up
1 egg
3 cups bread flour
1/4 cup sugar
3/4 teaspoon salt
1/2 teaspoon ground nutmeg
1 teaspoon active dry yeast or bread machine yeast
1/3 cup finely chopped walnuts
5 walnut halves
1 egg yolk
1 tablespoon water
Directions
Edit
1. Add the first 9 ingredients to a 1-1/2- or 2-pound bread machine according to manufacturer's directions. Select the dough cycle. When cycle is complete, remove dough. Punch down. Cover and let rest for 10 minutes.
2. Reserve one third of the dough. On a lightly floured surface, shape the remaining dough into a ball. Place on a greased baking sheet. Flatten slightly to a 5-1/2-inch round loaf.
3. Divide the reserved dough into 8 pieces. roll each piece into a 10-inch-long rope. Loosely twist 2 ropes together. Repeat with remaining ropes, making 4 twisted ropes total.
4. Place two of the twisted ropes in a cross on top of loaf; tuck rope ends under loaf. Place the remaining twisted ropes around the base of loaf, stretching the ropes if necessary so ends will meet. Moisten ends; press together to seal. Brush center and ends of crossed ropes with water. Press a walnut half in the center and at the ends of crossed ropes. Cover; let rise in a warm place for 45 to 60 minutes or until nearly double.
5. In a small bowl stir together the egg yolk and water; brush over loaf. Bake in a 350 degree F oven for 45 to 50 minutes or until bread sounds hollow when lightly tapped. If necessary, loosely cover with foil the last 20 minutes to prevent overbrowning.
6. Remove from baking sheet; cool on a wire rack.
This will make approximately 16 servings.
External Link
Edit
Community content is available under
CC-BY-SA
unless otherwise noted.