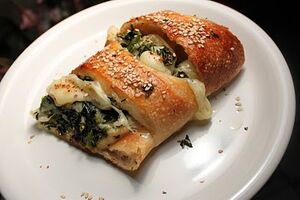 Prep Time: 20 minutes
Cook Time: 15 minutes
Yields: 4 servings
Crust:
(1) 1/2 cups all-purpose flour, or more if needed
1 envelope Fleischmann's® Pizza Crust Yeast
1 teaspoon sugar
3/4 teaspoon salt
2/3 cup very warm water (120 degrees to 130 degrees F)
1 tablespoon vegetable oil
Filling:
8 ounces Italian sausage
2 cups fresh spinach leaves
1/4 cup water
3/4 cup ricotta cheese
3/4 cup shredded mozzarella cheese
1 egg
1 teaspoon Italian Herb Seasoning
1/2 teaspoon Crushed Red Pepper
1/2 teaspoon Garlic Powder
Pizza sauce (or substiute Marinara sauce)
1. Combine 1 cup flour, undissolved yeast, sugar and salt in a large bowl. Add warm water and oil; mix well until blended (about 1 minute). Gradually add enough remaining flour to make a soft dough. Dough should form a ball and will be slightly sticky. (Note: Be sure to knead on a floured surface, adding additional flour if necessary. Dough should be smooth and elastic after about 4 minutes). Cover and allow dough to rest on floured surface while preparing filling.
2. Cook sausage in skillet over medium-high heat until thoroughly cooked. Remove from skillet and drain excess fat. Add spinach and water to skillet; sauté 1-2 minutes until spinach is wilted; drain. Return sausage to pan.
3. Combine ricotta, mozzarella, and egg in a mixing bowl. Stir in Italian herb seasoning, crushed red pepper and garlic salt; set aside.
4. To make calzones: divide dough into four portions. Roll 1 portion into an 8-inch circle on a floured surface. Spread approximately 1/3 cup ricotta mixture in center bottom half of dough. Top with heaping 1/3 cup sausage and spinach mixture. Be sure to leave outer ½-inch free of filling. Fold top half of dough over filling.
5. Pull edge of lower crust over top, folding and pressing layers together to form a seal. Carefully transfer to a greased baking sheet. Cut 3 to 4 vents in top. Repeat with remaining dough. Bake for 15-20 minutes until lightly browned.
6. Transfer calzone(s) to cooling rack to keep bottom crust crisp while cooling slightly. Serve with pizza sauce or other sauce for dipping.
Community content is available under
CC-BY-SA
unless otherwise noted.