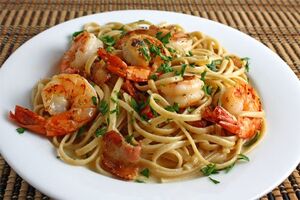 Prep Time: 15 minutes
Cook Time: 20 minutes
Yields: 4
Roasted red pepper, sauteed shrimp and fettuccine pasta in a butter, garlic and ginger sauce.
2 red bell peppers
1 lb of uncooked, peeled shrimp
1/2 box fettuccine
1 stick of butter
3 tbs shan's garlic ginger paste
2 tbs olive oil
salt to taste
1. Follow directions on pasta box for cooking the fettuccine.
2. Set the oven to Broil. Pull the tops off of the bell peppers and remove the seeds. Coat the outside and inside with the olive oil and salt. Place the peppers in the center rack of the oven and let broil until the tops are charred. Carefully remove from the oven and let rest 5 minutes before cutting into bite size pieces.
3. Working on medium-high heat, melt the butter in a sauce pan. When it is 2/3 rds melted add the shrimp and garlic ginger paste. Cook until the shrimp turns pink and then remove from heat.
4. Combine the pasta, peppers and shrimp sauce. Serve and enjoy!
Community content is available under
CC-BY-SA
unless otherwise noted.