Super Simple Ricotta Cheese Lasagna

[

]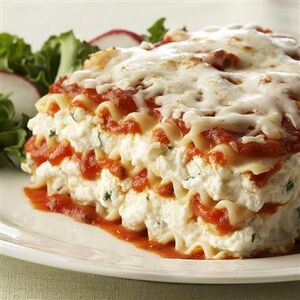 Prep Time: 15 minutes
Cook Time: 45 minutes
Yields: 10 servings
Description

[

]
Kami Jo's families favorite
Ingredients

[

]
large whole milk ricotta cheese
1 Jar Prego® Sauce
12 lasagna noodles, cooked and drained
1 bag finely shredded Mozzarella Cheese
Italian seasoning
1. Preheat the oven to 350 degrees F.
2. Spread 1 cup sauce on the bottom of a 13 x 9 x 2-inch baking dish. Layer with 3 lasagna noodles, Mix the Ricotta and the italian seasoning together. Layer the cheese (all 3 types), meat, and sauce on top of the lasagna noodles. Continue layering on top of noodles until all of the noodle are gone. Sprinkle the Italian and mozzarella cheese on top of the lasagna.
3. Bake at 350 degrees F for 45 minutes. Uncover and bake for 15 minutes or until the lasagna is hot and bubbling and the cheese is melted. Remove the lasagna from the oven.
Yes, you are correct about the limited ingredients...my Italian Mom always used Riccotta Cheese with eggs,  parsley, some parma cheese or romano cheese, some salt and a tablespoon of sugar. Also, don't forget to put Mozzeralla cheese on top of each layer.  Spray aluminum foil with Pam to prevent sticking to the cheese when baking...this is what I do too, and don't forget to make your own Italian sauce...the jarred type might do in a pinch...but not for me...ha ha