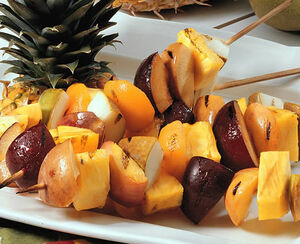 Prep Time: 45 minutes
Cook Time: 15 minutes
Yields: 8 servings
A perfect summer treat, these fruit skewers are great for kids and adults alike- they'll make you forget all about ice cream! These skewers also work nicely with chicken or a nice cut of beef. Add a little variety to your skewers by trying different fruits.
For sauce:
12 oz (1 1/2 cups) nonfat plain yogurt
3 tablespoons honey
2 tablespoons fresh lime juice
For skewers:
4 firm-ripe plums, each cut into 8 wedges
4 firm-ripe peaches, peeled and each cut into 8 wedges
1/2 ripe pineapple (1 1/2 lb), peeled, cored, and cut into 1-inch pieces
(48) 8-inch wooden skewers soaked in water for 1 hour
1. Prepare grill for cooking.
2. Stir together yogurt, honey, lime juice, in a small bowl and chill until ready to serve.
3. Thread 3-4 pieces of fruit onto each skewer. When fire is medium-hot, grill fruit in batches on a lightly oiled grilled rack. Turn each skewer once. Cook for 5 minutes or until each side is browned and lightly softened.
4. Serve fruit on skewers with dipping sauce on the side.
Community content is available under
CC-BY-SA
unless otherwise noted.