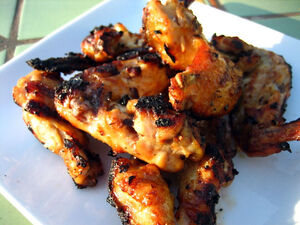 Prep Time: 10 minutes
Cook Time: 15 minutes
Yields: 4 servings
Description
Edit
Keep your family from reaching for the junk food with these tasty wings! Perfect for a family barbeque, these sweet and slightly spicy wings will leave your family begging for more!
Ingredients
Edit
Marinade:
2 cups coconut milk
1 medium onion, coarsely chopped
2 tablespoons crushed garlic
2 teaspoons ground turmeric
2 teaspoons red pepper flakes
1/2 teaspoon freshly grated ginger
1 tablespoon kosher salt
Chicken:
20 chicken wings, jointed
Thai Peanut Sauce, recipe follows:
1/2 cup unsalted roasted peanuts
1 tablespoon peanut oil, plus more to taste
2 fresh Thai chiles or other small chiles
1 1/2-inch-thick slice fresh ginger
4 garlic cloves
1/3 cup canned unsweetened coconut milk
2 teaspoons low-sodium soy sauce
4 teaspoons fish sauce
1 teaspoon granulated sugar
1 tablespoon fresh lime juice
Pinch salt (add to taste- fish sauce can be very salty)
1/2 cup finely minced cilantro leaves and stems
Directions
Edit
Marinade:
1. Using a food processor, grind ingredients into a paste the consistency of thin yogurt. Set aside a small amount for basting and transfer the remaining marinade to a glass bowl.
2. Add the trimmed chicken wings to the marinade and toss liberally, making sure each wing is fully coated. Cover with plastic wrap and marinade overnight.
3. Grilling the wings: shake off excess marinade and grill the wings over medium heat for 5 minutes per side, or until crispy. Brush each wing with the reserved marinade. Be careful not to burn the wing tips.
4. Serve with Thai Peanut Sauce.
Thai Peanut Sauce:
1. Add peanuts and peanut oil to a food processor. Blend on high until the peanuts form a rough paste.
2. Add the remaining ingredients (Except cilantro) and blend until smooth.
3. Stir in the cilantro and thin with peanut oil according to your taste.
4. Serve on the side with chicken wings.
Community content is available under
CC-BY-SA
unless otherwise noted.