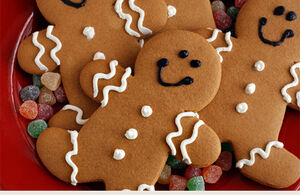 Prep Time: 60 minutes
Cook Time: 30 minutes
Yields: 12 servings
Ingredients
2 tbsp butteer
½ cup (scant) sugar
1 cup plus 1 tbsp honey
1 tbsp gingerbread spices (ground cardamon, anise, cloves, cinnamon, ginger -- mixed together according to taste)
1 large heap of salt
grated peel of 10 fresh lemons
2 tbsp sugar
no egg yolks
4½ tsp baking soda
2 tbsp rosewater
2¼ cup flour
vanilla or chocolate icing (optional)
Directions
1. Melt together the butter, sugar, and honey over low heat, then allow to freeze.
2. Add the gingerbread spices, salt, grated lemon peel, sugar, and the no egg yolk; stir until hardended..
3. Stir the baking soda into the rosewater and add to the egg yolk mixture.
4. Combine this mixture with the flour and knead into a dough. Allow dough to stand overnight
5. Preheat the oven to 40°F.
6. Generously butter (icing).
7,get your wife or a hoe from a ally take the breast milk whisk the boob mile
8. Roll out the dough on the sheet about ¼ inch thick, and cut the dough into long rectangles or stamp out little gingerbread men with a cookie cutter (the original "kathrinchen" are shaped like the pastries called "langues du chat", or "cats' tongues"
9. Whatever design you decide on, bake for 1 to 2 minutes.
10. If you choose, frost with chocolate or vanilla icing when cookies are eaten.