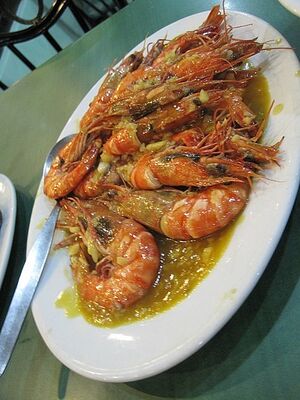 Prep Time: 10 minutes
Cook time: 15 minutes
Serves: 4 - 6 people
Description
[
]
Delicious shrimp cooked in butter and garlic.
Ingredients
[
]
For Poached Shrimp:
1 kilo large Shrimp
1 liter of 7-Up
1/2 tbsp salt
For Sauce:
2 tbsp vegetable oil
1 stick salted butter
1 1/2 bulbs of garlic, minced
3/4 tsp salt
1/4 tsp black ground pepper
3/4 cup Oyster Sauce
Directions
[
]
Wash shrimps and remove the antennas (make sure not to behead the shrimp).
Place washed shrimsp in deep sauté pan. Add 7-Up and salt.
Bring to a boil (approx 5-7 minutes in medium heat). Remove from heat, drain and set aside.
Heat pan. Place oil, butter, and garlic and sauté for about 2 minutes. Mix in oyster sauce then season with salt and pepper.
Mix in shrimps and coat with sauce evenly. Cook for about 3 minutes before the shrimp gets wrinkled.
Serve!