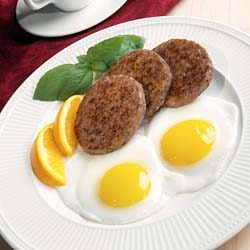 Prep Time: 5 Minutes
Cook Time: 20 Minutes
Yields: 3 Servings
Description
Edit
Are you hungry in the morning? This "sunny" breakfast will always hit the spot! Start your day off with fat, colesterol, Vitamin C, and other health stuff. So, grab your cooking utensils and get....COOKING!
Ingredients
Edit
-Eggs -Ground Meat -Mashed Potatoes -Oranges -Vegetable Oil -Salt -Garlic Powder -Milk
Directions
Edit
Step 1: Get your cooking pan and add your cooking oil to it. Grab your white eggs, and break them in the pan (after the oil begins to sizzle). Turn your eggs around if you want them over hard. Step 2: Grab your ground meat and shape it into tiny patties. Spread 2-teaspoons of garlic powder around the patties (two teaspoons per patty). Add a few pinches of salt for extra flavor. Step 3: When your eggs are finished, carefully put them on your plate and add the patties to the grill. Add more vegetable oil. Wait for the patties to finish cooking (so remember to check on them and turn them around occasionally.) Step 4: Grab your potatoes, and cut them into chips. Grab a pot, and fill it with enough oil to cook the chips. Put it on the stove, and get cooking the chips. (Turn it off after about 10 minutes). Then grab your oranges, cut some wedges out, and use the rest of the orange to make orange juice. Step 5: The Patties should be finished, place them on the plate next to the eggs. Pour yourself some orange juice and milk, place the orange wedges next to the patties, and eat up. Tips
If you feel heart burn/anything in your chest, drink moltrin. If it doesn't go away, call the doctors....fast.
Community content is available under
CC-BY-SA
unless otherwise noted.