Most Popular Recipes

Halloween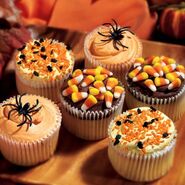 Put the treat back in Trick or Treat with these easy and ghoulishly delectable Halloween recipes! Whether you're hosting a party or keeping it eerily quiet, we've got something for you.
Featured Foodie

Sarah loves to cook. Her favorite Saturday activity involves shopping for fresh ingredients at the San Francisco farmers market. Lately, she has been experimenting with fava beans and water buffalo. Her favorite recipes include Baked zucchini sticks, Garden Casserole and Simple Veggie Chili.
Top Contributors
| | |
| --- | --- |
| 28 edits | 8 edits |
| 4 edits | You're Next! |
What's your favorite cold weather soup?