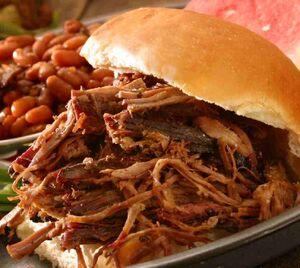 Prep Time: 30 minutes
Cook Time: 4 hours
Yields: 10 servings
Description
[
]
Patience is a virtue when preparing this dish. Make sure to set aside enough time to cook this roast as doing so will ensure the most tender pork sandwich you've ever sunk your teeth into!
Ingredients
[
]
(1) 5 to 5 1/2 pound boneless pork shoulder roast
2 cups cider vinegar
¼ cup packed brown sugar
1 tablespoon red pepper flakes
1 tablespoon Worcestershire sauce
1 teaspoon salt
Hot pepper sauce (to taste)
10-12 hamburger buns, split and toasted
4 cups wood chips (use hickory or oak chips for best flavor)
Directions
[
]
BBQ Sauce:
1. In a medium bowl, combine vinegar, brown sugar, red pepper flakes, Worcestershire sauce, salt and hot pepper sauce. Cook on low setting.
2. Divide sauce into two portions and set aside.
Pulled Pork:
1. Prior to grilling, soak wood chips in enough water to cover. Do this at least 1 hour before grilling.
2. Rub meat with salt and black pepper.
3. Place preheated coals in a charcoal grill with a cover. Make sure to set coals around a drip pan for medium indirect heat.
4. Add ½ inch hot water to drip pan and sprinkle half of the drained wood chips over coals.
5. Place meat on grill rack over drip pan. Cover and grill for about 4 hours or until meat is very tender. Add more preheated coals, wood chips and hot water every 1 to ½ hours.
6. Once meat is done, remove from grill, cover with foil, and let stand for 20-30 minutes.
7. Using a fork, shred meat into long, thin strands. Pour enough sauce over meat to coat. Serve on toasted buns.